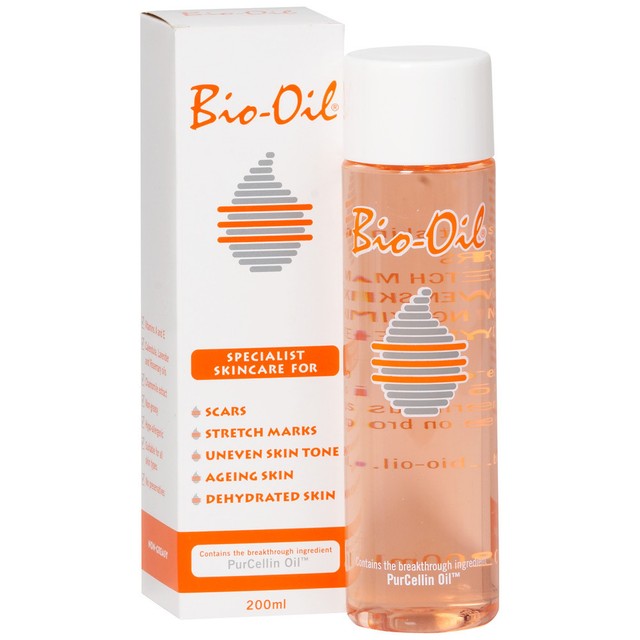 I delved in the body oil territory at the age of 20, when I realized that while my face was an oily mess, my body was as dry as the climate in Arkansas.
I went to my trusted pharmacy down the street for help and the lady at the counter recommended me the Bio-Oil Skincare Oil. She even suggested that I use it on my face to correct my uneven skin. This was because I went without make up and my post acne inflammatory scars were very visible. Anyway, I digress, let's get back to the review.
Now, although lovely for her to advise me, If there was one thing I was sure of is that I did not need to put a heavy-non-compatible-to-my-skin oil onto my face. Mainly because that would have caused my lovely cheeks to be clogged and become a minefield of pimples and active breakouts.
The first thing I did when I came back home was to read the instruction and the description of the oil which claims to:
Improve the Appearance of Uneven Skin Tone;
Improve the Appearance of Stretch Marks;
Plasticize the skin;
Replenish the natural moisture to dehydrate skin .
Then I went onto to the ingredients list as I was curious about the body-face versatility of the product and with horror I discovered that the product contained the following ingredients:
Mineral oil (paraffinum liquidum), triisononanoin, cetearyl ethylhexanoate, isopropyl myristate, retinyl palmitate, helianthus annuus (sunflower) seed oil, tocopheryl acetate, anthemis nobilis flower oil, lavandula angustifolia (lavender) oil, rosmarius officinalis (rosemary) leaf oil, calendula officinalis extract, glycine soja (soybean) oil, BHT, bisabolol, fragrance (parfum), alpha-isomethyl ionone, amyl cinnamal, benzyl salicylate, citronellol, coumarin, eugenol, farnesol, geraniol, hydroxycitronellol, hydroxyisohexyl 3-cyclophexene carboxaldehyde, limonene, linalool, red 17 (Cl 2100).
The product has retinyl palmitate, which has been linked to cancer and organ toxicity. Moreover, a lot of the ingredients listed and highlighted have immunotoxicity and can cause allergic reactions. Not mention that seed oil is highly comedogenic and the idea of putting cooking oil material on your face glands and pores is a BIG NO! Red die has also been linked to exacerbate inflammation if used topically on acne. Therefore, I not once even had the thought of putting this oil onto my face.
The ingredients list basically put me off from using the product and the money spent on the product felt like being put down the drain. I am not sure what the company means by clinically proven as of being tested on the skin, because I could not find a proper publication but rather some listing on their website with very vague approximation of study design. For more information, you can have a look at : https://www.bio-oil.com/uk/uk-en/dry-skin-gel/clinical-trials/non-comedogenic-2018. 
In my opinion you should not put this anywhere near your face or sensitive areas. I can see the moisturizing properties for burn scars and other similarly extremely drying conditions to the skin, but you could easily put Vaseline as an occlusive and it would work the same.
Despite my reluctance, I did use this oil for a little-long-while on my knees and my elbows but it did not help with the "ashiness". It just felt greasy. The oil does not get absorbed into the skin and eventually rubs off on clothes.
After 1 year and half of constant use, I finally reached the end of the bottle and I am so happy to have not listened the lady from the shop. Because I can easily see how this product would have made my face an absolute CAOOOSSSS.
Therefore, ladies, please, please, please, if you must use this product, please test it out. There are people who have used this in their face and have had horrible reactions.
My final review is:
Packaging
5/5
The packaging is simple.
Effectiveness
0/5
It did not rehydrate my skin. It just made it very greasy.
Value
3/5
It is an affordable oil.

£12.90 for 100 ml.

Longevity
3/5
I used this for one year and half because my knees and elbows were the only area I experimented this on.
Overall
It is a product I DO NOT recommend purchasing.
I hope that you find this review useful and if you have already tried the product WHAT ARE YOUR OPINIONS ON IT? Let me know below.
Xoxo
T.